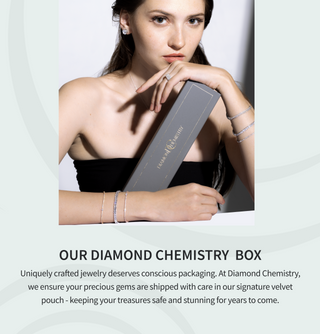 For design submissions, we accept the following file formats: jpeg, jpg, png, or webp. We kindly request that the file size be less than 5MB. If you have a specific file format that you would like to submit and it is not listed here, please let us know via email at customerservice@diamondchemistry.com, and we will make our best effort to accommodate your request. We want to ensure a smooth and convenient process for submitting your design files.
Absolutely! As part of our custom jewelry process, we will provide you with a 360-degree view of your jewelry, along with CAD renderings and images. This allows you to visualize your custom design and make any necessary adjustments or confirmations before we proceed with production. We want to ensure that your custom jewelry meets your expectations and reflects your unique style.
We provide standard US sizes for all Diamond Chemistry rings. Click here If you would like assistance in determining the perfect ring size, for more information please click here.
If you have any further questions or need personalized guidance, feel free to reach out to us at 1-888-874-0475 or via email at customerservice@diamondchemistry.com. We are here to help you find the ideal fit for your ring.
Absolutely! We understand the importance of choosing specific gemstones or diamonds for your custom jewelry. If you have specific gemstones or diamonds in mind, please mention this in your notes and references when submitting your custom jewelry request. We will do our best to accommodate your preferences
At Gliimps Fashion USA Inc., we accept all major credit cards, such as Visa, Mastercard, Discover, and American Express. You can conveniently provide your billing and credit card information during the checkout process. It is important to note that we prioritize your security and, therefore, we do not retain any record of your credit card details on our website. Rest assured, your information is kept safe. We also offer finance options in collaboration with Affirm. It provides flexible payment plans that suit your needs, giving you greater convenience and control over your shopping experience.
Please be aware that if your order exceeds your credit limit or if your card is declined, the system will automatically cancel your order. We want to ensure a smooth and hassle-free shopping experience for our valued customers.
Yes, we offer international shipping for our custom jewelry. Regardless of your location, we are committed to delivering your purchase to you. Please note that shipping, duty, insurance, and customs fees will be charged as applicable based on your specific destination and local regulations.
No, Yours Truly orders do not come with any additional charges. We believe in transparent pricing, which means we do not charge extra for the design process, including computerized CAD designs, or photo and video rendering. At Diamond Chemistry, we are committed to providing fair and honest pricing without any hidden fees. You can trust that the pricing for Yours Truly Orders reflects the value of the materials and craftsmanship involved, just like any other item on our website.
We appreciate your interest in our Yours Truly orders. However, please note that discounts or sales do not apply to our Yours Truly jewelry. Each piece is meticulously handcrafted to your specific preferences and requirements, ensuring the highest level of quality and personalized attention. Our pricing structure reflects the craftsmanship, materials, and expertise involved in creating a unique and custom piece of jewelry just for you. While we do offer promotions and discounts on other items, our Yours Truly orders are excluded from these offers to maintain fairness and integrity in our pricing.